Anker Wireless Charger, PowerWave Pad Qi-Certified 10W Max for iPhone SE (2020), 11 series, AirPods, (No AC Adapter)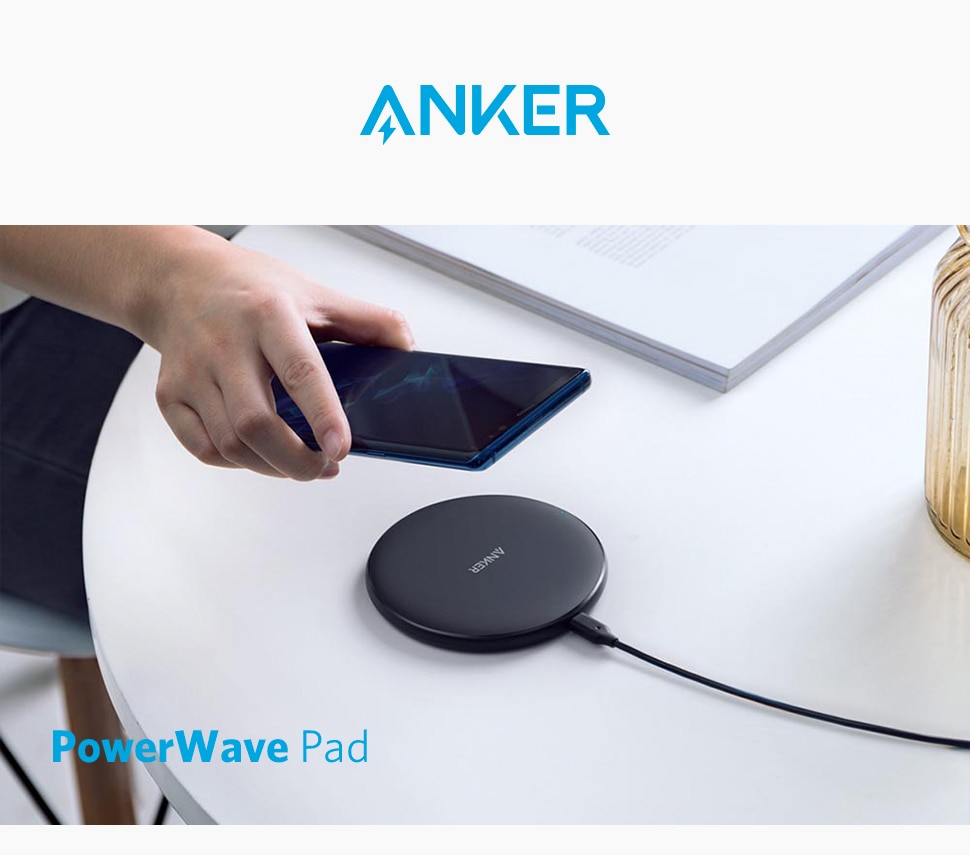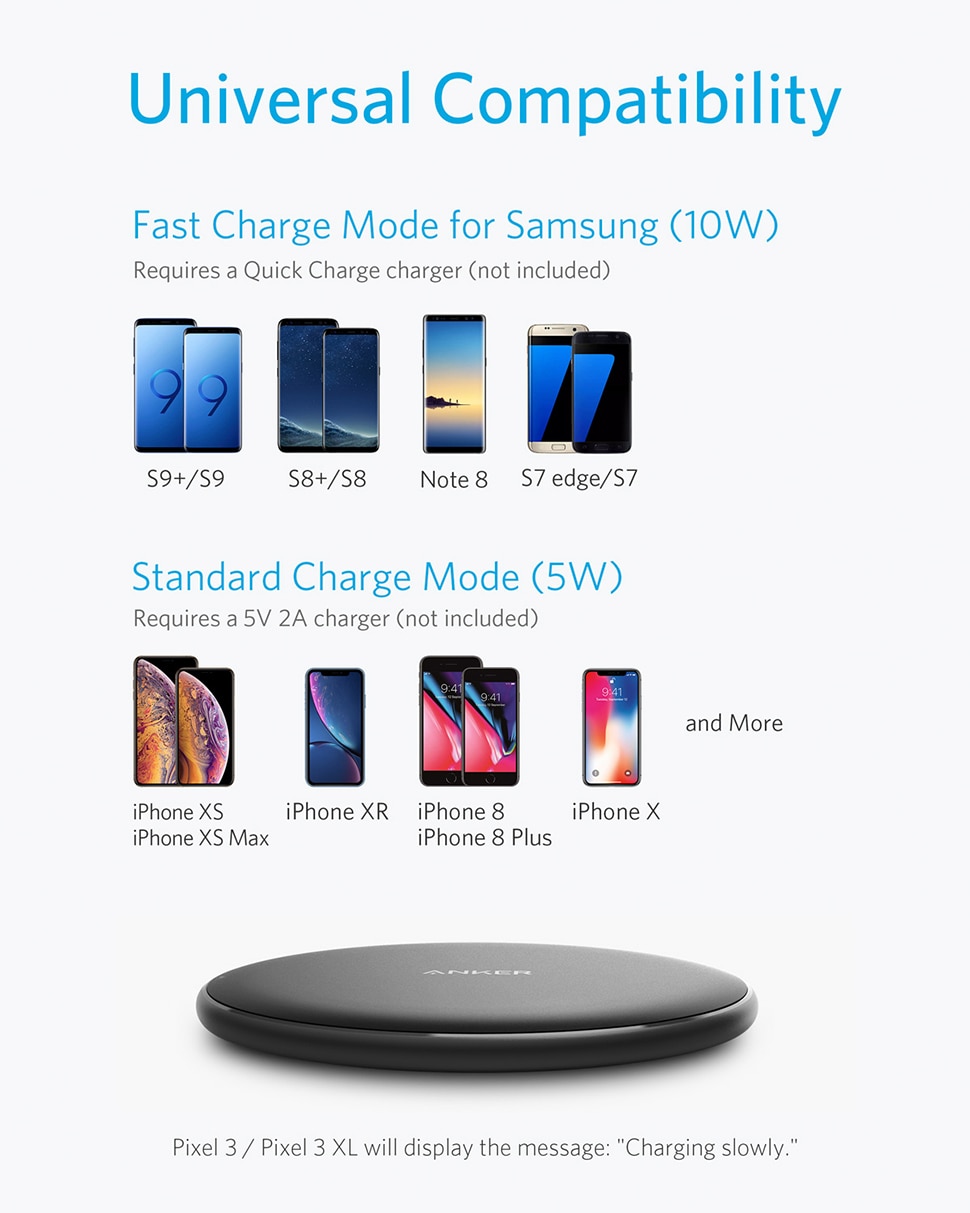 Universal Compatibility
10W Fast Charge Mode: (Using QC 2.0/3.0 Adapter
Samsung Galaxy S10 / S9+ / S9 / S8 / S8+ / S7 edge / S7 / S6 edge+
Samsung Note 9 / Note 8 / Note
7.5W Fast Charge Mode: (Using QC 2.0/3.0 Adapter)
iPhone XS Max / iPhone XR / iPhone XS / iPhone X / iPhone 8 / 8 Plus
5W Standard Charge Mode: (Using 5V/2A Adapter)
All Qi-enabled phones and devices
Pixel 3 / Pixel 3XL (The phone's screen will display the message: Charging slowly)
Quick Charge Recommended
To take advantage of fast charge mode, using a Quick Charge 2.0 or 3.0
wall charger is required. Standard charge mode
also requires at least 5V/2A – iPhone stock chargers (only 5V/1A) can not
supply enough power for PowerWave Pad.
Note: Please use the included cable for best results.
Align Charging Coils
For best results, place your phone on the center of
the wireless charging pad to ensure stable charging.
Through-Case Charging
PowerWave Pad supports charging through phones cases up to 5mm thick.
Please note that cases made of metal,
external attachments such as magnets,
credit cards, grips, and stands will interfere with charging.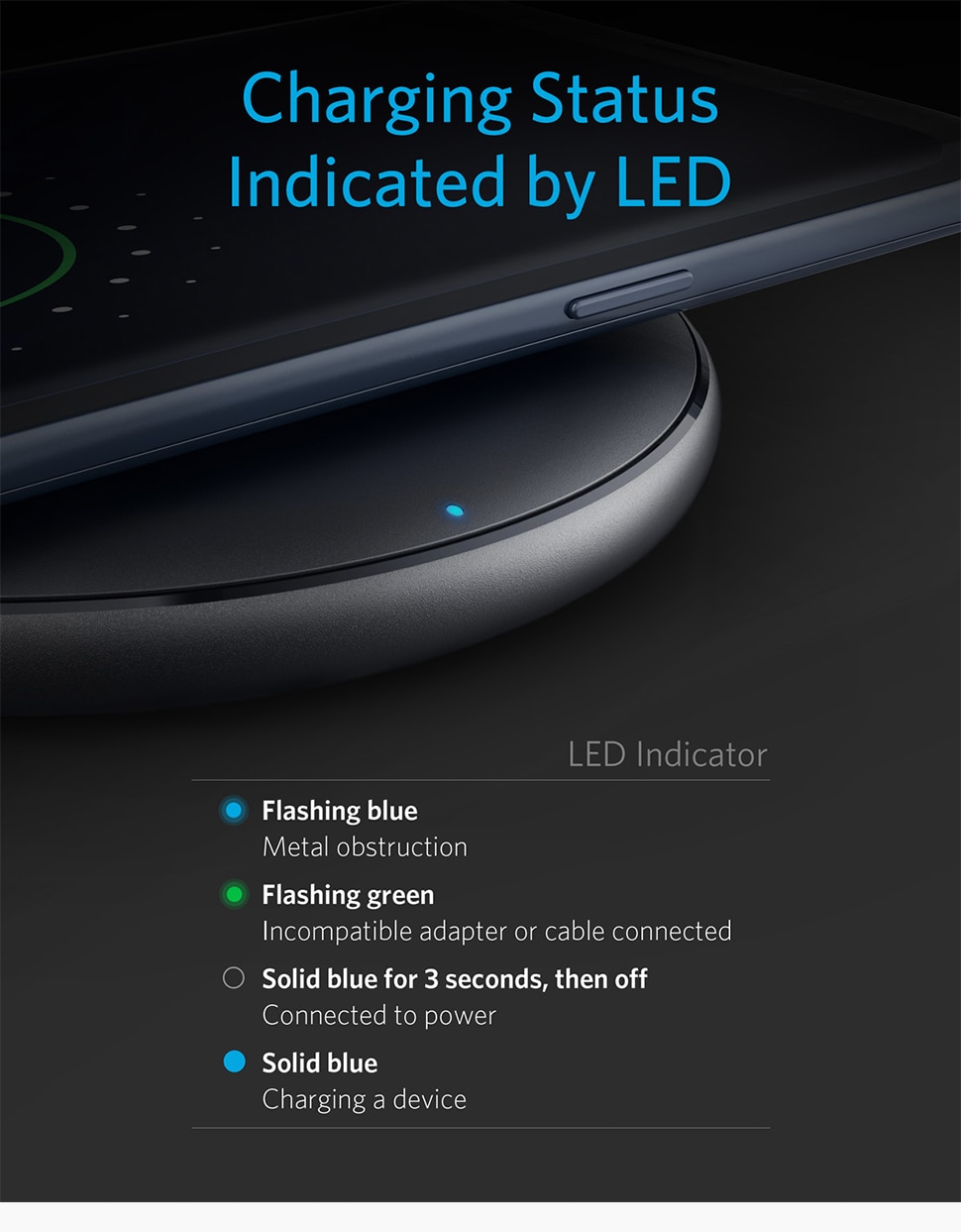 Informative & Sleep Friendly Indicator
Flashing blue – Metal obstruction detected
Flashing green – Incompatible AC adapter or cable connected
Solid blue for 3 seconds, then off – Connected to power
Solid blue – Actively charging a device
Superior Safety
Certified to work flawlessly with any Qi-compatible phone,
ensuring a safe charge for you and your devices.
The Anker Advantage
High-speed charging. Leading technology. Join our family of over 30 million happy users,
and change the way you charge.
​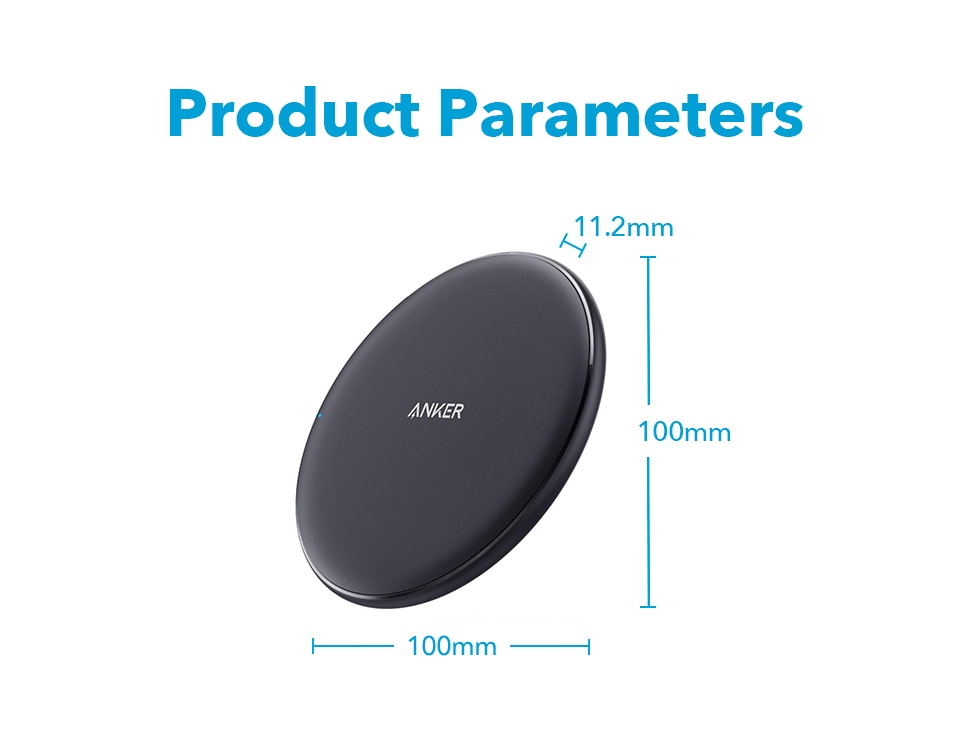 Model Number: A2503 PowerWave Pad
The Optimized Wireless Charging Pad
Slim and Trim
An aesthetically-pleasing slimline design adds an air of high-tech sophistication to your desk, while the TPU charging surface prevents your devices from easily sliding off.
Just in Case
Don't worry about taking your case off whenever you have to charge. PowerWave delivers charging power directly through cases up to 5 mm thick—including Otterboxes.
Input: 5V-2A / 9V-2A
Output: 5W / 10W
Compatibility:
10W Fast Charge Mode: (Using Quick Charge 2.0/3.0 Adapter)
Samsung Galaxy S20 / S10 / S9+ / S9 / S8 / S8+ / S7 edge / S7 / S6 edge+

Samsung Note 10 / Note 9 / Note 8 / Note 7
5W Standard Charge Mode: (Using 5V/2A Adapter)
iPhone 11 / 11 Pro / 11 Pro Max / XS Max / iPhone XR / iPhone XS / iPhone X / iPhone 8 / 8 Plus

All Qi-enabled phones and devices

Pixel 3 / Pixel 3XL (The phone's screen will display the message: Charging slowly)
Note:
Do not use an iPhone 5V/1A stock charger or a computer's USB port to power your PowerWave.

Place your phone on the center of the PowerWave Pad to ensure stable charging.

Cases made of metal and attachments such as magnets, cards, and grips will interfere with charging.

Quick Charge 2.0/3.0 wall adapter (9V/2A) required for Fast Charge Mode.