Wireless SIM GSM Home RFID Burglar Security LCD Touch Keyboard WIFI GSM Alarm System Sensor kit English,Russian,Spanish Voice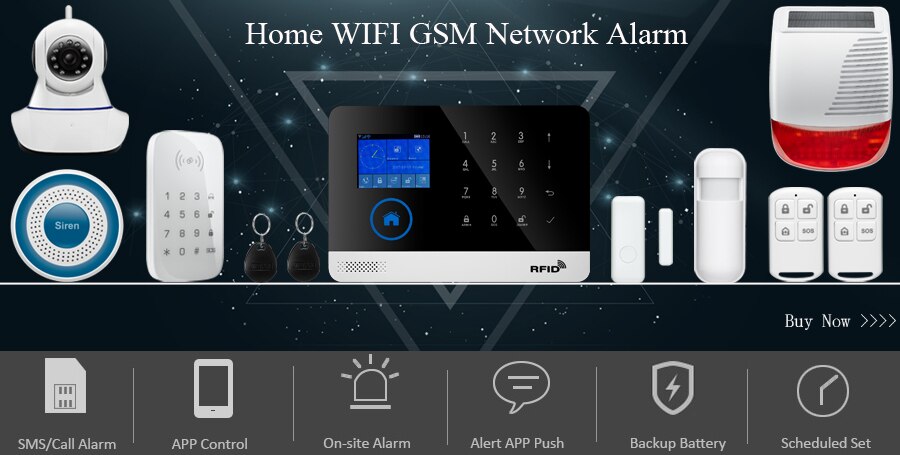 For your safety, if you need more complete alarm system.Please click on photo.You will get the unexpected surprise.
WIFI GSM SMS Home Burglar Security Alarm System PIR Motion detector APP Remote Control With WIFI Free Push Message
NOTE:This alarm panel support English,Russian,Spanish,German,Polish,France,Italian,Chinese Free Switchable.but only has english manual book.
WIFI / GSM / intranet alarm system: APP push,SMS,Voice monitoring,intranet center etc. Support different alarm channels.Enjoy the intelligent life.
New smart host: HD 2.4-inch TFT color display screen,full voice prompts. buttons sensitive operation,more simple.
English/Russian/Spanish/German/Polish/Chinese switchable: Support multi-language menu display, voice operation prompts and alarm SMS settings. GSM network automatic proofreading,to ensure accurate clock,support time zone settings, Convenient for multi-area application.
Remotely monitoring alarm: When accident invasion,the phone remotely grasp the situation,high decibel live alarm through the host timely dial,send SMS notification,APP message push.
Configure RFID cards: Configure 2 RFID cards,Support 100 learning/storage location for remote controller, RFID cards and wireless detector.
Multi-zone location settings: Such as gate,hall,SOS,bedroom,Window,balcony,perimeter,smoke,gas,
Carbon monoxide,water leaking etc zone name settings.
5 types defense zones setting: Ordinary zone,stay arm,24-hour emergency zone,closed zone,
doorbell zone,Meet a variety of needs.
Timely notification: When External power failure,built-in battery low power,APP push and SMS notification. When External power success,APP push. When Tamper alarm,SMS notification.
5 groups preset alarm phone numbers: SMS on/off and dial on/off can be set respectively.
Timing arm and disarm: Set the arm and disarm in advance,so that life is safe every day.
Delay function: User can set arm delay and alarm delay according to own needs.
Add camera: Work with camera,when Accidental invasion, You can remotely monitor the situation immediately, speak and scare away thieves.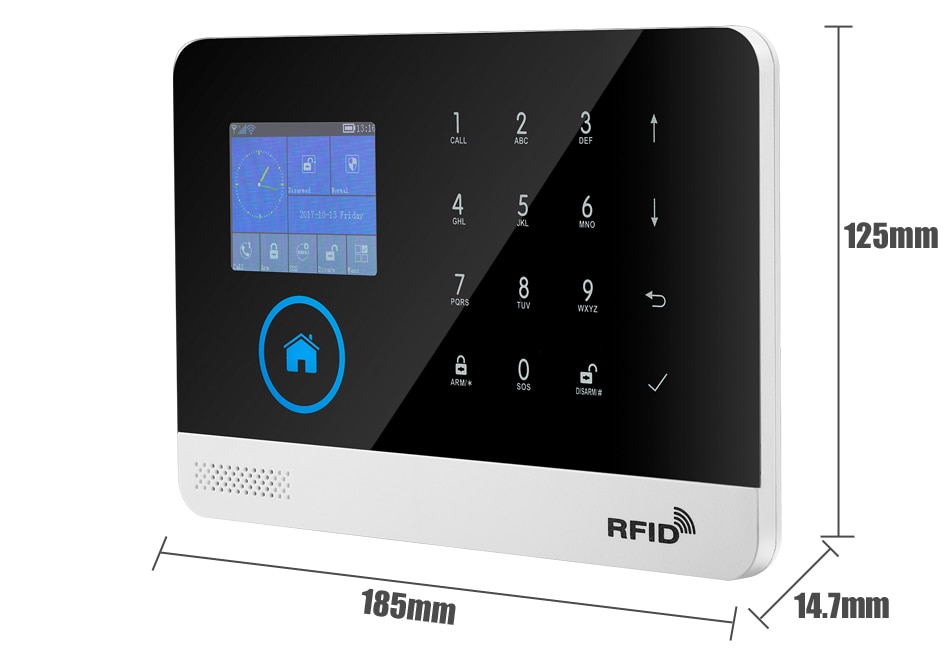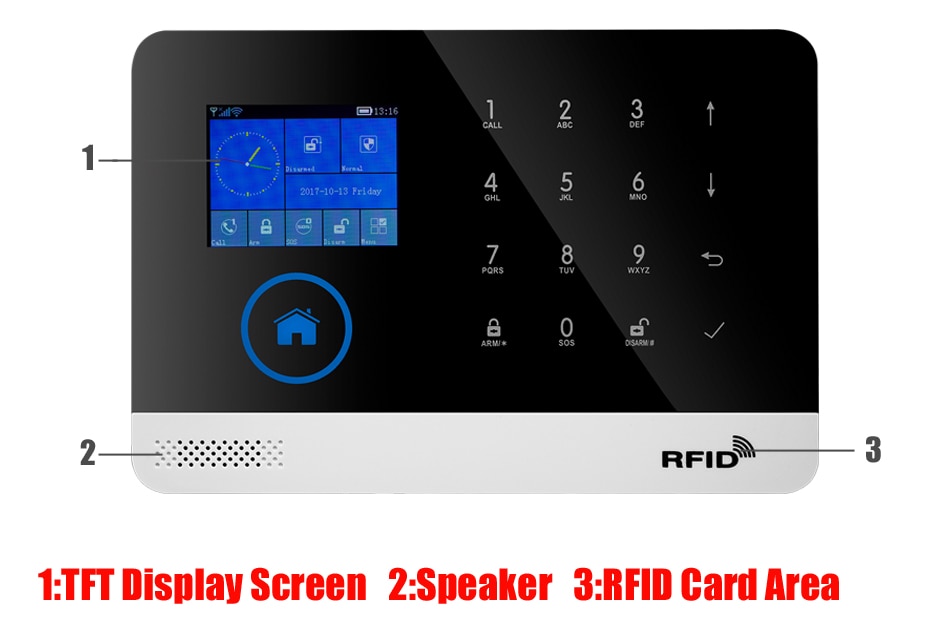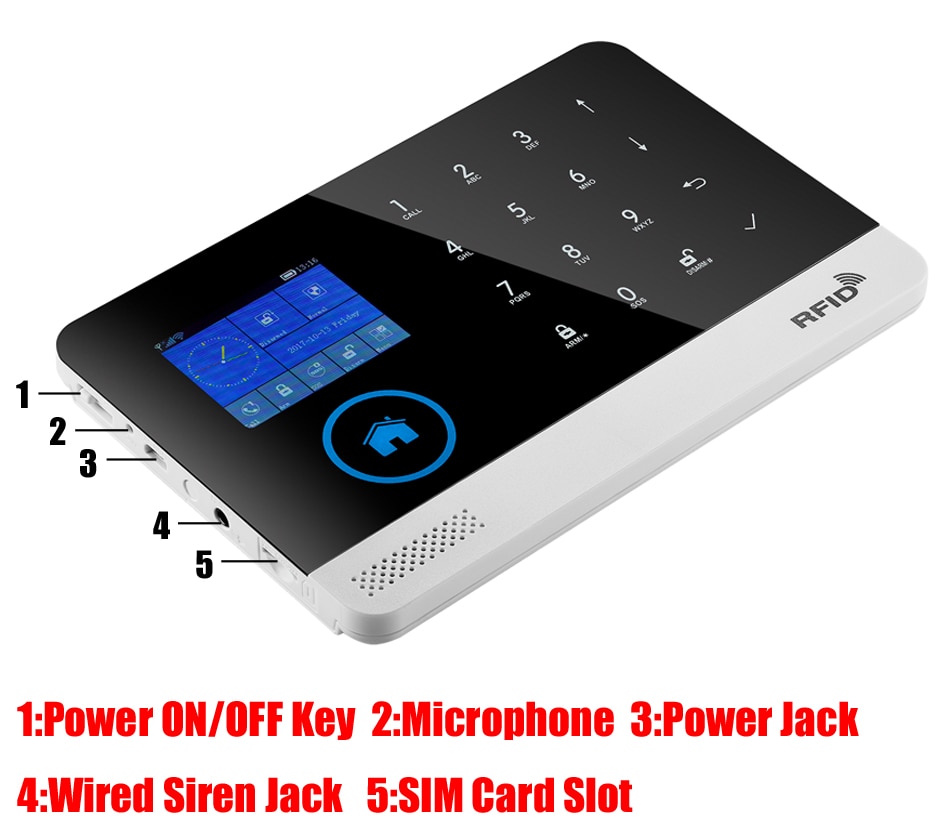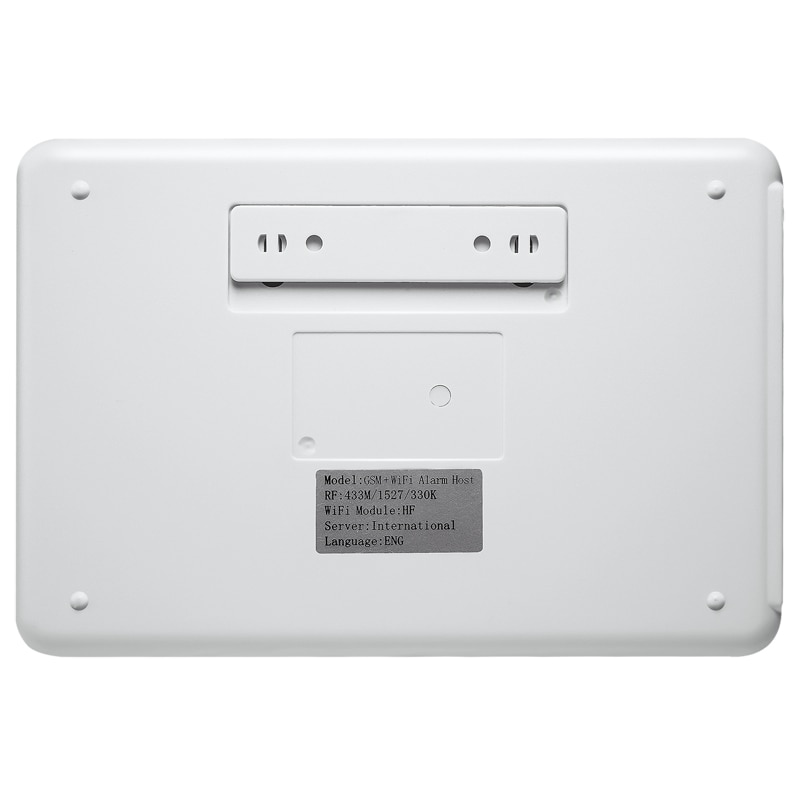 Specification
Input Voltage: DC5V/1A(micro USB jack)
Standby Current: <80uA
Working Current: <120mA
Siren output: <500mA
Wireless Frequency: 433MHZ EV1527
GSM Frequency: 850/900/1800/1900MHZ
Back-up Battery: 3.7V/500mAh Lithium battery
Working temperature: 0~55 ℃
APP download
IOS: please search "smart security system" in app store
Android: please search"PNCE600_CN" in play store, to download app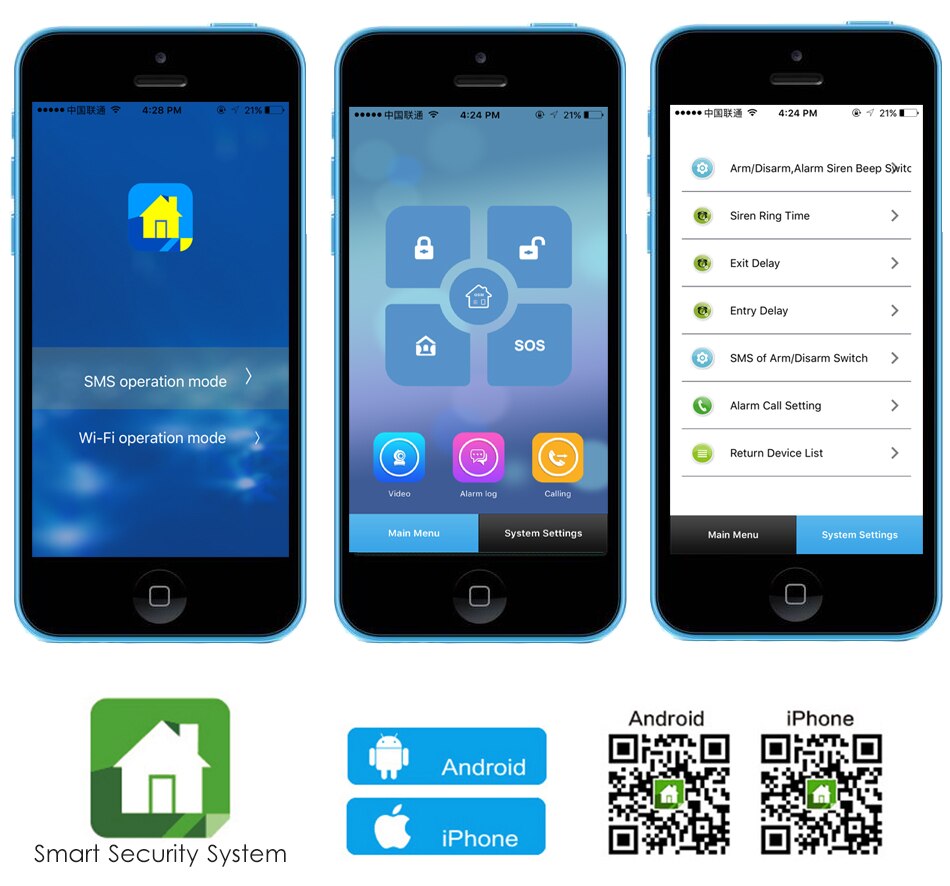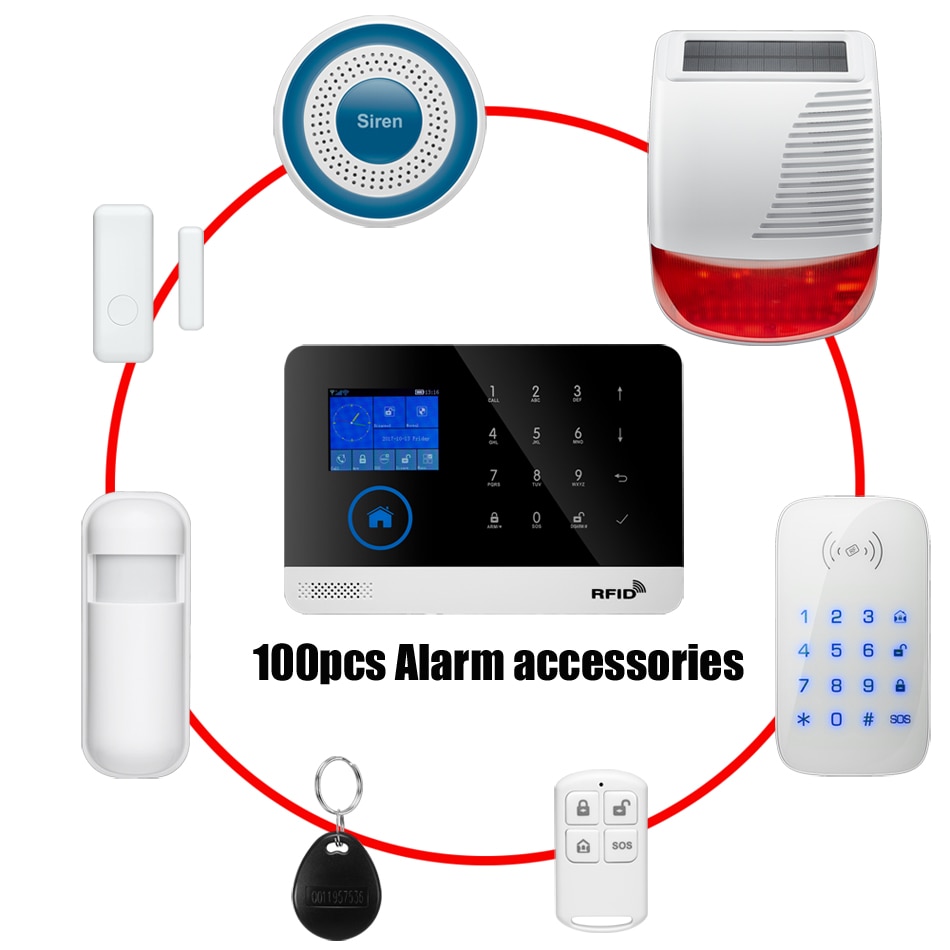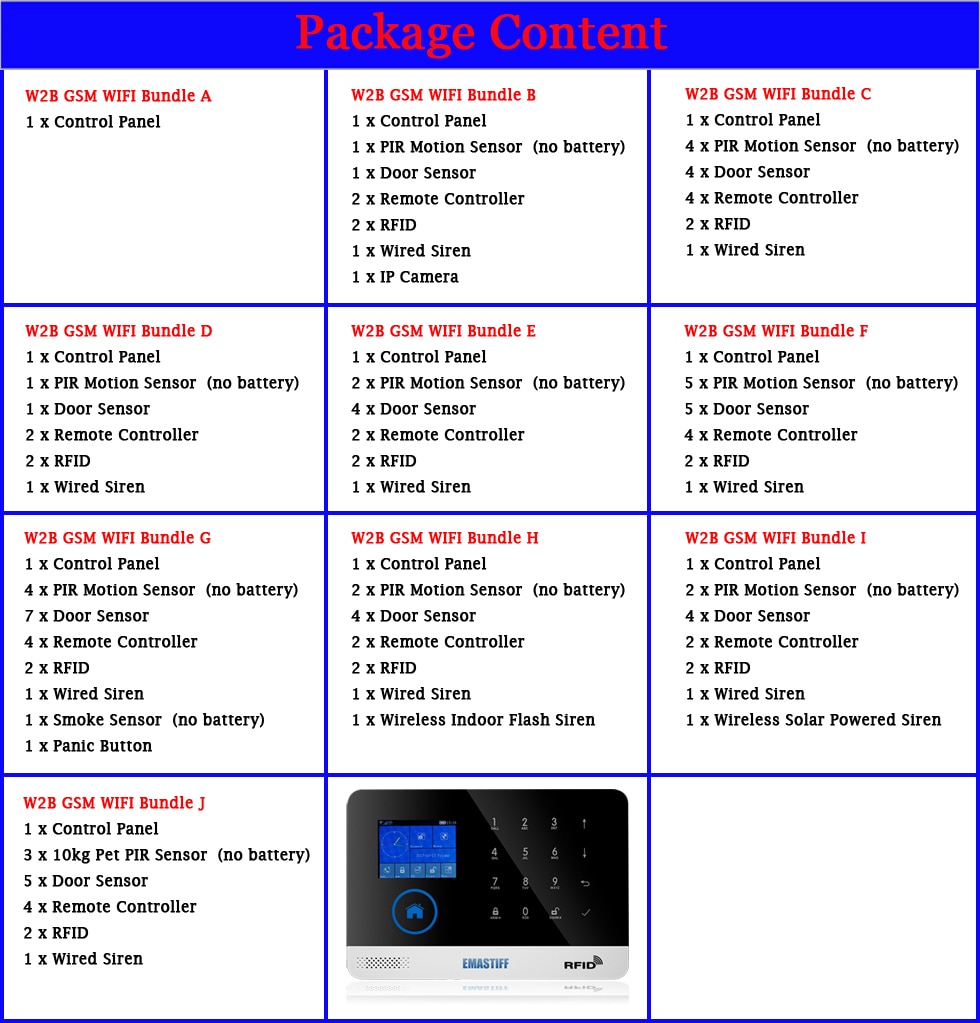 Q:It just with WIFI in my house and without telephone line,can I use this alarm system?
A:Yes.It can work in WIFI mode or GSM module.
Q:Can I add additional remote controllers,door sensors,pir sensors,smoke detectors,gas detectors or other sensors to work with this alarm system?How many?
A:Yes.It can work with 100 pcs wireless alarm accessories
Q:Does the alarm panel with backup battery?
A:Yes.It with internal rechargeable backup battery.It can support work about 4-6 hours.
Q:What is the dimensional ?
A:185*125*14.7mm.